Living Prototypes
Digital Fabrication With Biomaterials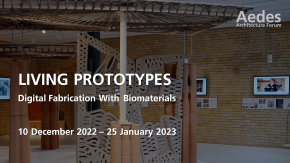 Exhibition
10 December 2022 – 25 January 2023

Opening
Friday, 9 December 2022, 6.30pm

Speaking at the opening
Hans-Jürgen Commerell Aedes, Berlin
Dirk Scheinemann Director of the Department for Building and Construction, German Ministry for Housing, Urban Development and Building, Berlin
Martin Tamke Associate Professor, Royal Danish Academy Copenhagen


Venue
Aedes Architecture Forum
Christinenstr. 18-19
10119 Berlin

Opening hours
Mon 1–5pm
Tue–Fri 11am–6.30pm
Sunday and public holidays 1–5pm
Sat 10 December 2022, 1–5pm

Symposium
Friday, 9 December 2022, 3.30pm, more info
Venue ANCB The Aedes Metropolitan Laboratory, Christinenstr. 18-19, 10119 Berlin
Format The event will take place on site and will also be live-streamed at Vimeo.

powered by