20 Under 45: The Next Generation, Singapore
A Selection of Works by Under-45 Singapore Registered Architects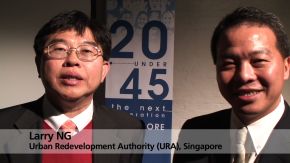 Exhibition:
March 28 – May 12, 2011

Opening:
Monday, March 28, 2011, 7:00 p.m.

Speakers at the opening:
Dr. h.c. Kristin Feireiss, Aedes
H.E. Jacky Foo, Ambassador of the Republic of Singapore, Berlin
NG Lang, CEO Urban Redevelopment Authority (URA), Singapore
Prof. Matthias Sauerbruch, Sauerbruch Hutton Architects, Berlin

SYMPOSIUM: Making Liveable Cities at ANCB

Location: ANCB, Christinenstr 18-19, 10119 Berlin
Date: Monday, 28 March 2011, 5pm - 7pm

The symposium will be held just before the opening of the exhibition:
Making Liveable Cities - Architecture Agendas in Singapore and Germany
with six short PRESENTATIONS by Architects:

Angelene Chan, DP Architects Pte Ltd;
Warren Liu Yaw Lin, DLab;
Rene Tan, RT+Q Architects Pte Ltd from Singapore

and from Germany:
Matthias Rick, Raumlabor/Berlin;
Volker Halbach, Blauraum/Hamburg;
Chris Burns, Abcarius & Burns/Berlin

as well as a MODERATED DISCUSSION in English led by Prof. Riklef Rambow, Architecture Theory and Psychology and three invited audience members:
Gunnar Hartmann, urbanist and educator;
Christopher Dell, urbanist and musician;
Theresa Keilhacker, political architect.
powered by