What Makes India Urban?
Challenges towards Mobility, Infrastructure, Energy and Perpetual Change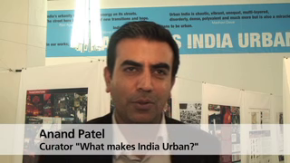 Ausstellung:
October 9 - November 26, 2009

Opening:
October 9th, 2009, 6:30pm

Speakers will be:
Kristin Feireiss, Aedes Architectural Forum, Berlin
SE Hr. Sudhir Vyas, Indischer botschafter in Berlin, Berlin
Prof. Barbara Kisseler, Chefin der Senatskanzlei, Berlin
Kiran Nagarkar, Schriftsteller, Bombay/Berlin
Dr. Annette Hulek, Haus der Kulturen der Welt, Direktorin des Kulturprogramms der Asien-Pazifik-Wochen,
Anand Patel, Kurator, Ahmedabad
Ulla Giesler, Kurator, Berlin

The indian DJ/VJ project B.L.O.T. and the berlin-based 22Rockets will frame the event the way it is meant to.

On Saturday, October 10, 2009, an accompanying symposium is scheduled under the same title "What Makes India Urban?"

For the period of the exhibition a multifaceted eventprogramme will take place, e.g. a book-reading, a movie-evening and a student´s workshop.

The project has received financial support from the Stiftung Deutsche Klassenlotterie Berlin (DKLB), The Alfred Herrhausen Society/The International Forum of Deutsche Bank, as well as Zumtobel, ArcelorMittal, Carpet Concept, Busch Jaeger, and AXOR hansgrohe. Cordial thanks as well to the Indian Embassy in Berlin, the Goethe Institute and to the Heinrich-Böll-Foundation for their generous support. The Asia-Pacific Weeks are supported by the Stiftung Deutsche Klassenlotterie Berlin (DKLB).



powered by