UNLAKECITY - where there was a lake, now there is a city
Geography and Architecture in Mexico City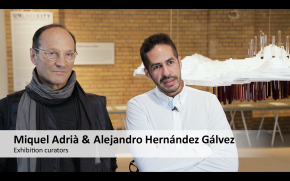 Exhibition:
28 January - 21 March 2017
Location:
Aedes Architecture Forum
Christinenstr. 18-19
10119 Berlin
Opening Hours:
Tu-Fri 11 am – 6:30 pm
Sun-Mon 1-5 pm

Opening Programme:
Friday, 27 January 2017

Opening lecture:
6:30 pm at ANCB, The Aedes Metropolitan Laboratory,
Christinenstr. 18-19, 10119 Berlin, of Enrique Norten, Architect, Mexico City, New York
Reservierung unter:
[email protected]

Exhibition opening:
7:30 pm at Aedes Architecture Forum
Speaking at the opening:
Dr. h.c. Kristin Feireiss, Aedes Architecture Forum, Berlin
Amb. Carlos de Icaza, Undersecretary for Foreign Affairs, Ministry of Foreign Affairs, Mexico
Dr. Andreas Görgen, Director General, Cultural affairs and Communication, Ministry of Foreign Affairs, Germany
Miquel Adrià and Alejandro Hernández Gálvez, Curators, Mexico City



An Aedes catalogue will be published.



powered by