Housing in Vienna - Wiener Wohnbau
innovative. social. ecological.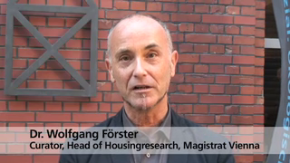 Exhibition:
May 5 – June 10, 2010

Opening:
Wednesday, May 5, 2010, 6:30 pm

Speaking at the opening:
Kristin Feireiss, Aedes Berlin
Dr. Michael Ludwig Vizebürgermeister, amtsführender Stadtrat für Wohnen, Wohnbau und Stadterneuerung. Wien
Dr. Wolfgang Förster, Referatsleiter der Wohnbauforschung, Magistrat der Stadt Wien.

The accompanying conference "Abstract City: urbanes hausen" in german language will take place on May 5, 2010 from 12 – 6 p.m. at ANCB, Pfefferberg, organized by Lehrstuhl Entwerfen und Baukonstruktion Prof. Bettina Götz, UdK Berlin with Aedes Network Campus Berlin (ANCB).


powered by