Medellín: Topography of Knowledge
Urban Transformation Through Collective Processes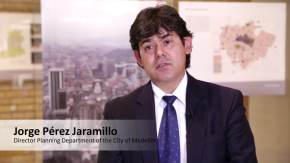 Exhibition:
6 June - 30 July 2015
Opening:
Friday, 5 June 2015, 6:30 pm
Speaking at the opening:
Dr. h.c. Kristin Feireiss, Aedes Berlin
Irmgard Maria Fellner, Director Culture and Media Communication Southern Hemisphere, Federal Foreign Office
Juan Mayr Maldonado, Ambassador of Colombia in Germany
Jorge Pérez Jaramillo, Director Planning Department of the City of Medellín
___________________
On the occasion of the opening of the exhibition we cordially invite you to the ANCB Symposium
Medellín, Topography of Knowledge
Urban Transformation Through Collective Processes
Time:
Friday, 5 June 2015, 4:00 pm
Place:
ANCB, Christinenstr. 18-19, 10119 Berlin
From a war-ridden slum to a hotspot for Social Urbanism, how has Colombia's second-largest city transformed itself into a progressive city for architecture and urban planning? To celebrate and inaugurate the exhibition, "Medellín: Topography of Knowledge", ANCB will introduce the city's recent history in the company of main actors and local experts. Bringing the topic of the exhibition closer to home, the symposium will contextualize main themes to local issues and ANCB's on-going research initiative Mobilising the Periphery, which focuses on the challenges of peripheries and emerging urban structures worldwide.
Speaking at the symposium:
Hans-Jürgen Commerell, Director ANCB The Aedes Metropolitan Laboratory
Jorge Pérez Jaramillo, Director Planning Department of the City of Medellín
Edward Schwarz, Holcim Foundation for Sustainable Construction, Zurich
Andrés Ramirez, ANCB The Aedes Metropolitan Laboratory
Dr. Eduard Kögel, ANCB The Aedes Metropolitan Laboratory
powered by