营造 Contemplating Basics
ZAO/standardarchitecture, Beijing / China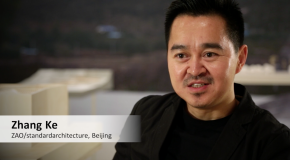 Exhibition:
31 January - 26 March 2015
Opening:
Friday, 30 January 2015, 6:30 p.m.
Speaking at the opening:
Dr. h.c. Kristin Feireiss, Aedes Berlin
Dr. Eduard Kögel, urban planner, Berlin
Zhang Ke
, ZAO/standardarchitecture, Beijing
On the occasion of the opening of the exhibition we cordially invite you to the ANCB Symposium:
Mountains / Architecture/ Tourism
Between South Tyrolean Alps and Tibetan Himalayas
Time:
Friday 30 January 2015, 4:00 pm
Place:
ANCB, Christinenstr. 18/19, 10119 Berlin
More info:
www.ancb.de

In the context of the exhibitions on new architecture in the South Tyrolean Alps and the work of ZAO/standardarchitecture from Beijing in the Tibetan Yarlung River Valley with an inside view on plans for the Bumthang Valley in Bhutan, the symposium will address crucial questions about tourist infrastructure and its impact on landscape, economy, culture and people's lives.
ARCH+ features 34: Zhang Ke
, ZAO/standardarchitecture
Time:
Thursday, 5 February 2015, 7pm
Place:
KW Institute for Contemporary Art, Auguststraße 69, 10117 Berlin
Complementing the ANCB symposium, which will focus on the theme of building for sustainable tourism, ARCH+ features with Zhang Ke will introduce by means of the projects in the exhibition the overriding architectural thinking behind them and the conditions of contemporary architecture production in China.
powered by